DDP – Delivery Duty Paid ... (Place of Destination)
Characteristics
Under DDU the seller is responsible for all costs associated until the seller delivers the goods to the buyer, cleared for import at named place of destination. In DDP the seller does not pay for unloading the goods. It is important to mention the exact name of the place of destination. This term can be used for any mode of transportation including multimodal. The term is used under the assumption that the seller is capable of clear customs at destination.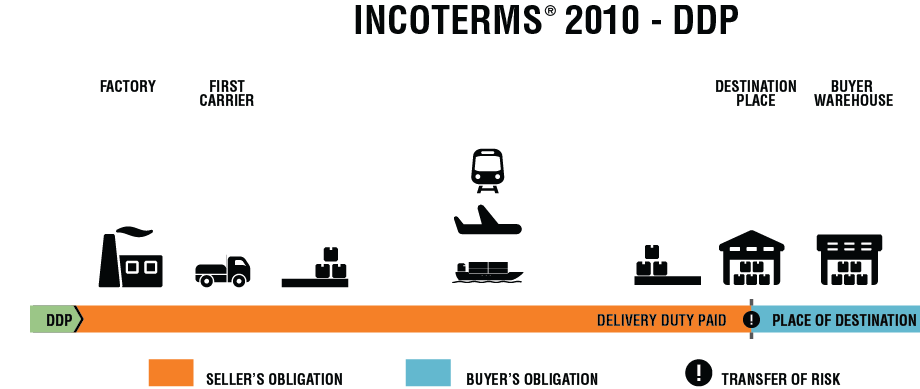 Explained
For this term, seller delivers goods until the final point agreed with buyer with customs import clearance paid and goods unloaded. It represents the maximum risk for seller. Seller must pay all duties, taxes, VAT and other destination charges. It doesn't require any party for insurance and can be used for any mode of transportation.
In practice, seller must know what to do when selling up to final destination with all expenses covered. It is usually applicable for items like courier where the full supply chain cost is under control and with minimum cost variance.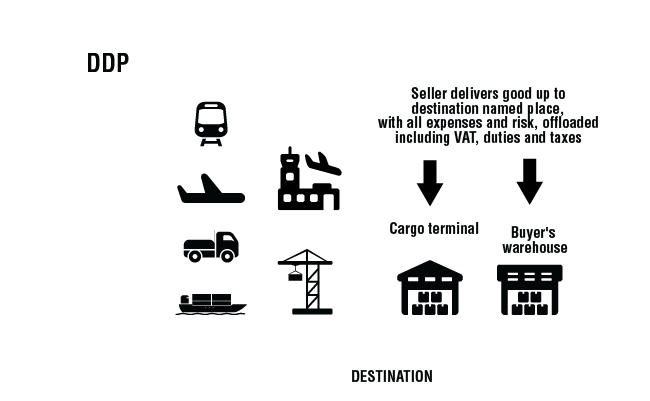 Examples
Courier delivery of online purchases:
DDP 445 Ocean Road, Sydney, Australia

Seller and Buyer obligations
| THE SELLER'S OBLIGATIONS | THE BUYER'S OBLIGATIONS |
| --- | --- |
| 1 Provision of goods The seller must deliver the goods, provide commercial invoice or an equivalent electronic document, provide evidence of conformity or proof of delivery | 1 Payment The buyer must, pay the price of goods as agreed in the contract of sale |
| 2 Licences, authorisations and formalities The seller must provide export licenses or local authorizations for exporting goods | 2 Licences, authorisations and formalities The buyer must get any export license and import permit for the export of goods |
| 3 Contracts of carriage and insurance The seller must contract on usual terms at his own expense for the carriage of the goods to the named place of destinationNo obligation for contract insurance | 3 Contracts of carriage and insurance Contract of carriage without obligation Contract of insurance without obligation |
| 4 Delivery The seller deliver the goods in the agreed place of destination at disposal of the buyer or any nominated person by the buyer, does not require to unload the goods | 4 Taking delivery The buyer must pick up the goods once are available |
| 5 Transfer of risks The seller is responsible until are available to the buyer | 5 Transfer of risks The buyer must bear all risks of loss of or damage from the time the goods have been delivered |
| 6 Costs The seller must pay: ll cost until delivery on board, lloading cost and carriage until port of destination, insurance from origin and main carriage, all export duties and taxes and customs formalities, all import duties and taxes and customs formalities | 6 Costs The buyer must pay for unloading cost unless they are included in the contract of carriage |
| 7 Notice to the buyer The seller must notify the buyer that goods have been delivered | 7 Notice to the seller The buyer must notify the delivery time |
| 8 Proof of delivery, transport document or equivalent electronic message At his own expense, transport documentation with on board date in full set when originals are printed. | 8 Proof of deliver Transport document or equivalent electronic messageAccept sellers transportation document in comformity |
| 9 Checking The seller must bear the cost of checking, quality control, measuring, weighing, counting, packing of goods and marking. If special package is required, the buyer must inform and the seller and agreed on extra expenses | 9 Inspection Unless it's a mandatory at origin, pay any pre-shipment inspection |
| 10 Other Assist obtaining additional information required by the seller | 10 Other Assist obtaining additional information required by the seller |